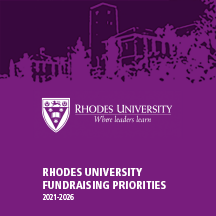 GOING BEYOND THE ACADEMIC COCOON TO COMMUNITY ADVANCEMENT CATALYST
How Rhodes University is Uplifting Civic + Socio-Economic Conditions in its South African Rural Setting

The "Princeton of higher learning in South Africa" is on a mission to innovate a new "active agent" community outreach and partnering model that is raising the bar on how enlightened universities apply their resources and talents to the betterment and well-being of disadvantaged local constituents and municipalities in developing countries.

A critical mandate for Rhodes, one of Africa's elite research institutions with over 8,000 students (many post-graduate), is the upgrading of vital public service delivery to long-suffering, hometown residents in Grahamstown (recently renamed Makhanda). Among the needs are reliable power, clean water, road repair, better healthcare, wider education, improved fiscal administration, economic development, crime prevention, housing, digital skills development, transparent civic governance, and job creation.

By collaborating with community stakeholders and mobilizing students, faculty, alumni, donors, and the private sector, Rhodes is seeking to address and overcome the problems of this challenged and bankrupted municipality. While considered a base of academic excellence with many of South Africa's foremost private schools, this town of 70,000 in the hinterland of the Eastern Province has a large, disadvantaged population and one of the worst cases of mismanagement, poverty, unemployment, educational failure, economic stagnation and public service delivery in the country.

What makes Rhodes University stand out?
Enlighted leadership, philosophy and enduring 117-year-old heritage of academic excellence in preparing students for lifetime achievement and success (some of the highest past rates in South Africa)
Graduates that are domain experts and artists in exemplary roles and inspirational positions throughout the world
Foundational role in community growth, development, and societal cooperation initiatives -- Pathways to enhance the capacity of disadvantaged schools, and Makhanda Circle of Unity civic groups and key stakeholders
Commitment and funding to bring enterprising students from troubled townships to academic scholarships
Community programs that reach beyond the "ivory tower" to reduce the turmoil, toil and despair of tin shanty living
Application of world class intellect, research and science to addressing basic human and community needs
Resources that are being mobilized and applied include:
Institute of Social and Economic Research
Institute for Water Research and Water-Lab
Unilever Centre for Environmental Water Quality
Center for Higher Education Research, Teaching and Learning
Alan Gray Center for Leadership Ethics
Public Service Accountability Monitor
Various university departments (education, business school, computer science, etc.)
Rhodes University Fundraising Priorities (download PDF)